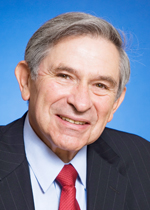 AEI's Paul Wolfowitz writes this morning that it's shameful the Obama administration is seemingly sitting on its hands with regards to Libya, especially after cutting its teeth on Egypt in the previous weeks.
When there are so many things that could be done to help the unbelievably brave Libyan people—without any risk to American lives—it is shameful to be sitting on our hands. If that is not reason enough to act, then we should be thinking about the terrible reputation the United States is acquiring, by its inaction, among the Libyan people and throughout the region. It will stay with us for a long time.
It may seem strange for Wolfowitz, who has not always had the best relationship with (or view of ) the UN, to have such a strong sense of what he wants the international body to do. But it's not so strange considering his companionship with Shaha Riza, for whom Wolfowitz arranged significant pay raises while he was president of the World Bank--a situation that led to the eventual resignation of Wolfowitz. Riza was born in Libya and her father was a consultant to the Saudi family for generations of Saudi power.
Specifically, Wolfowitz means the U.S. should be seeking UN approval for the following:
— Recognition of a provisional authority in liberated areas (or even a Provisional Government of Free Libya if the Libyans can organize a credible one), initially in Benghazi in the east and Misurata in the west, which seem to be liberated, although are still under threat of air attack;

— Provision by member countries, including specifically Egypt and Tunisia, of any support requested by these provisional authorities;

— Imposition of a NATO-supported "no fly" zone over Libya to halt further bombing by Qaddafi's forces;

— Urgent supply of food and medical supplies to any point in Libya that is accessible by road or by military transport aircraft;

— Provision of arms to the provisional authorities.