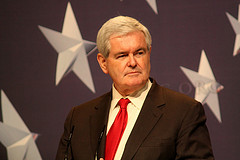 ABC News is reporting that AEI scholar and former Speaker of the House Newt Gingrich will announce this week his intention to form a presidential exploratory committee.
Gingrich spokesman Rick Tyler would only say that the former speaker will make an announcement by the end of the week on forming a presidential exploratory committee. But friends of Gingrich say he has already made up his mind. Gingrich's travel schedule is already looking like that of a presidential candidate. He will be in Iowa on Mar. 7 and ABC News has learned he will in New Hampshire Mar. 17.

Gingrich's advisors say his campaign will have a "major presence" in Georgia, which Gingrich represented in Congress for 19 years, though they have not decided yet where his campaign headquarters will be. Gingrich has lived in northern Virginia for years.