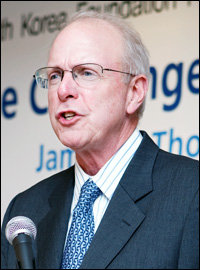 The RAND Corporation announced today that it has signed a contract to assist the Guangzhou Economic and Technological Development District in Guangdong Province, People's Republic of China, to support technological innovation in 'Knowledge City,' a planned new development in southern China's Guangdong for 300,000 residents. RAND will assist GETDD in attracting world-class scientific, engineering and entrepreneurial talent to build technology companies in Knowledge City.
RAND president and CEO James A. Thomson signed the contract with director general of the Administrative Committee of Guangzhou Development District Ling Weixian. Thomson also met with Wang Yang, secretary of the Guangdong Committee of the Communist Party of China.
"The Guangzhou Development District is very honored to work with RAND on this Knowledge City innovation project, and this contract signing ceremony is the starting point for our cooperative research project," Ling said in a released statement.
"We hope that through this cooperation, RAND can provide us with a portfolio of policy advice on attracting global talent and developing a knowledge economy. This signing ceremony today is just the start of cooperation between our two sides," he said.
The project will be led by Debra Knopman, vice president and director of the RAND Infrastructure, Safety, and Environment division; Keith Crane, a RAND senior economist; and Howard Shatz, a RAND senior economist. The final report is expected to be completed in a little more than a year.
Knowledge City broke ground nine months ago and is a joint project between China and Singapore.