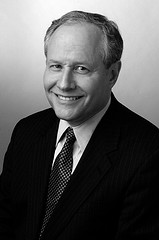 On March 7, Weekly Standard Publisher William Kristol will deliver the Bradley Lecture at the American Enterprise Institute. The lecture, "Irving Kristol and the Neoconservative Persuasion," centers on Kristol's late father and his prominent position in neoconservatism.
The recent publication of forty-seven heretofore uncollected essays by the late Irving Kristol (The Neoconservative Persuasion: Selected Essays, 1942–2009, Basic Books) provides an occasion for a fresh consideration of that "persuasion." What is the neoconservative persuasion, where did it come from, and where does it lead? It also provides an occasion for a fresh consideration of the thought of Irving Kristol--especially in light of the recovery of early and unfamiliar essays on W. H. Auden, Lionel Trilling, and Leo Strauss, as well as on religion and political philosophy. William Kristol, editor of The Weekly Standard and author of the foreword to the volume of his father's essays, will give this March Bradley lecture.
More information is available on the event at the AEI website.