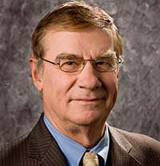 In August, I posted about Cato's Pat Michaels reluctantly admitting on CNN's GPS with Fareed Zakaria that 40% of his funding for his environmental research comes from the oil industry.
At the time, Michaels told Think Tanked "It didn't reflect well on CNN. People notice this kind of thing."
That's true, even if it's not right away.
The New York Times is reporting that Rep. Henry Waxman (D-CA), who took expert congressional testimony from Michaels on the House Subcommittee on Energy and the Environment, wants to know if he and the other members were duped.
In a letter to his Republican successor as chairman, Fred Upton of Michigan, Mr. Waxman demanded an inquiry into whether Dr. Michaels deceived Congress about his financial background.

"It would be a serious matter if Dr. Michaels misled the committee about his financial backers and evaded Representative Welch's attempt to seek clarification," Mr. Waxman wrote.

"I hope you will agree that all witnesses need to provide accurate disclosures to the Committee and will work with me in resolving the issues raised by Dr. Michaels's testimony," he added.