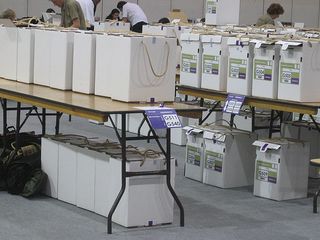 The Carnegie Endowment for International Peace has unveiled a guide to Egypt's elections today for both English and Arabic reading audiences. As an ailing Hosni Mubarak will have no choice but to soon end his presidency, multiple groups in Egypt are vying for some semblance of formal political power in a country that has experimented with democracy, only to retreat to its authoritarian proclivities.  
This election period, which will begin in November and is expected to carry out over the next year, entails some of the most sensitive elections in Egypt's history. And while the parliamentary schedule is set, there are still commitment problems for the presidential elections.
Parliamentary Elections for the People's Assembly: November 29, 2010
Parliamentary Run-off Election: December 6, 2010
Presidential Election: September 2011 (tentative)
From the CEIP primer:
Opposition movements such as the Muslim Brotherhood and Nobel Laureate's Mohammed ElBaradei's National Association for Change view the coming political season as a critical window of opportunity for political reform, but whether or not these diverse groups can translate their grassroots momentum into effective pressure for political reform remains to be seen. Meanwhile, the ruling National Democratic Party (NDP) remains deeply committed to preserving the political status quo, and its powerful leaders—including Hosni Mubarak's own son Gamal—will not easily relinquish their dominance in Egypt's governing institutions. In previous parliamentary races, domestic observers have accused the NDP and security services of unlawful interference in the voting process and many expect that the integrity of the upcoming elections will be similarly compromised. Whatever the outcome, this high-stakes electoral season might well mark a turning point in Egyptian political history.
Thus far, here's what you'll find on the Carnegie Guide to Egypt's Elections:

One of the more provocative elements with this launch is an essay by Amr Hamzawy, Research Director and Senior Associate of CEIP's Middle East Center, "The Case for Boycotting Egypt's Elections."
Or, perhaps it's this interview with Egyptian Muslim Brotherhood spokesperson Essam al-Arian: