Lee Hamilton, the president of the Woodrow Wilson Center for International Scholars, told staffers he will step down, according to a report from Politico's Laura Rozen.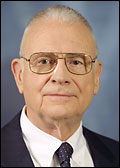 Hamilton, 79, has headed the think tank for 12 years, since retiring from Congress. As the former chairman of the House Foreign Affairs Committee, Hamilton hired many of the staff now at the center of Barack Obama's foreign policy team – Obama foreign policy advisor and deputy national security advisor Denis McDonough, NSC Latin America hand Dan Restrepo, Mara Rudman, now chief of staff to Middle East peace envoy George Mitchell, NSC Senior Director for the Middle East Dan Shapiro, speechwriter Ben Rhodes, among others.
Check out Rozen's thorough report here.