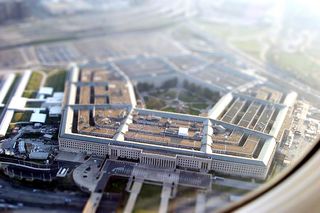 Like many think tanks, the Center for a New American Security released their analysis of President Obama's proposed budget yesterday. In a report called The Sacrifice Ahead, CNAS' Travis Sharp argues that while the 2012 budget moves in the right direction, numerous other efficiencies could be taken to help "shore up the U.S. economy."
"The FY 2012 budget requested by DOD will enable the U.S. military to defend the nation against many perils. But it will do little to stymie a threat that may ultimately prove more dangerous: America's growing debt," writes Sharp. "Over time, the economic consequences of indebtedness may crowd out investments in a U.S. military that undergirds international security; may render the United States more vulnerable to economic coercion; and may erode America's global stature and soft power. Relieving U.S. indebtedness demands preventive action by American society and government – including DOD."
AEI's Tom Donnelly shared his reactions to the CNAS report--and CNAS in general, for that matter--at the Weekly Standard blog. Now that Michele Flournoy, Kurt Campbell and Jim Miller all have their Obama administration appointments, CNAS has taken a turn for the esoteric, according to Donnelly.
Under the new management of John Nagl and Nate Fick, CNAS first became the home of the counterinsurgency "COINdinistas" but has also been in the forefront on issues like "natural security" – that is, security the way environmentalists would think about it – and "energy security" – including how the Navy can get better gas mileage – and "soft power" in all its various manifestations.
And it's a direction that has left CNAS analysis strikingly conventional, if not misguided and weak, as far as Donnelly is concerned.
In its infrequent work on more traditional military issues such as defense strategy and budgets or weapons programs, CNAS has tended to adhere to an analytical approach. But its just-released report on the 2012 Pentagon budget – "The Sacrifice Ahead" – comes from the heart of the Rand Paul-Barney Frank corner of the cosmos.  Fearing that the "cost of servicing the [national] debt could…put pressure on investments in America's soft power" – yikes, the AID budget is at risk! – the study calls on the military to man up (emphasis added): "[A] base reduction of approximately 10-15 percent of the [future years defense plan] could serve as a useful benchmark because it corresponds with DoD's approximate share of total federal spending and thus its burden of responsibility in contributing to deficit reduction."

Where to begin with such a rationale? It certainly is as pure an expression of "everything-on-the-table" thinking as can be imagined; CNAS will brook no changes in the federal government's priorities. (And that, in turn, is what the Obama budget intends: let's lock in the "gains" in domestic discretionary spending and entitlements, like the health care plan, of the last two years.) But it's also a pretty perverse reading of the military's "burden of responsibility." Asking soldiers and Marines to add "balancing Uncle Sam's books" to "win in Iraq and Afghanistan" seems like a stretch. The battlefield is burden enough.