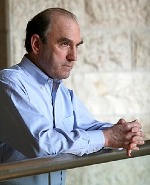 In a one week turnaround, new House Committee on Foreign Affairs chairwoman Ileana Ros-Lehtinen announced last week that the full committee would hold hearings on Egypt and Lebanon and U.S. policy toward them. The hearings, which took place yesterday and today, in part, relied on testimony from think tank experts Elliott Abrams of the Council on Foreign Relations and Rob Satloff of the Washington Institute on Near East Policy.
Abrams, a former official in the Reagan and George W. Bush administrations, unsurprisingly, upheld many of the Bush democracy promotion policies and seemingly justified the fear over the strength of the Muslim Brotherhood in his testimony.
But what's confusing is Abrams' claim that Mubarak had already installed his son, Gamal, as the next president of Egypt--and that the Obama administration had been warned (yet done nothing) about creating a second "President for Life."
And in fact Hosnia [sic] Mubarak will leave behind a Muslim Brotherhood that is stronger than ever because he viciously repressed moderates and centrists in his effort to stay in power. The Brotherhood thrived underground and in the mosques, while a moderate who had the audacity to run against President Mubarak in 2005, Ayman Nour, was then imprisoned for four years. This suggests that Egypt's forthcoming transition to democracy will be extremely difficult and may falter, because the Mubarak regime did literally nothing in 30 years to prepare Egypt for it. The Administration was warned about all of this a year ago, and told that if Mubarak stole the November 2010 parliamentary elections and tried to install his son as his successor, Egypt was in for real turbulence. He did both— and now Egypt is reaping the whirlwind. Egyptians were not going to accept sixty years of Mubaraks, two consecutive Presidents for Life, and a continuation of the State of Emergency for another three decades. Unfortunately that advice to the Administration was not heeded—or not well enough anyway; the Administration was largely passive and hardly reacted when Mubarak stole yet another election last Fall.
Gamal Mubarak has been discussed as the successor to Hosni Mubarak for more than 10 years, but at no time has Mubarak installed his son as the successor.  A recent WikiLeaks document suggests that the U.S. Embassy believed it would not be a wise move for Egypt if Gamal were to be put in place.